Hybrid working: how we're doing it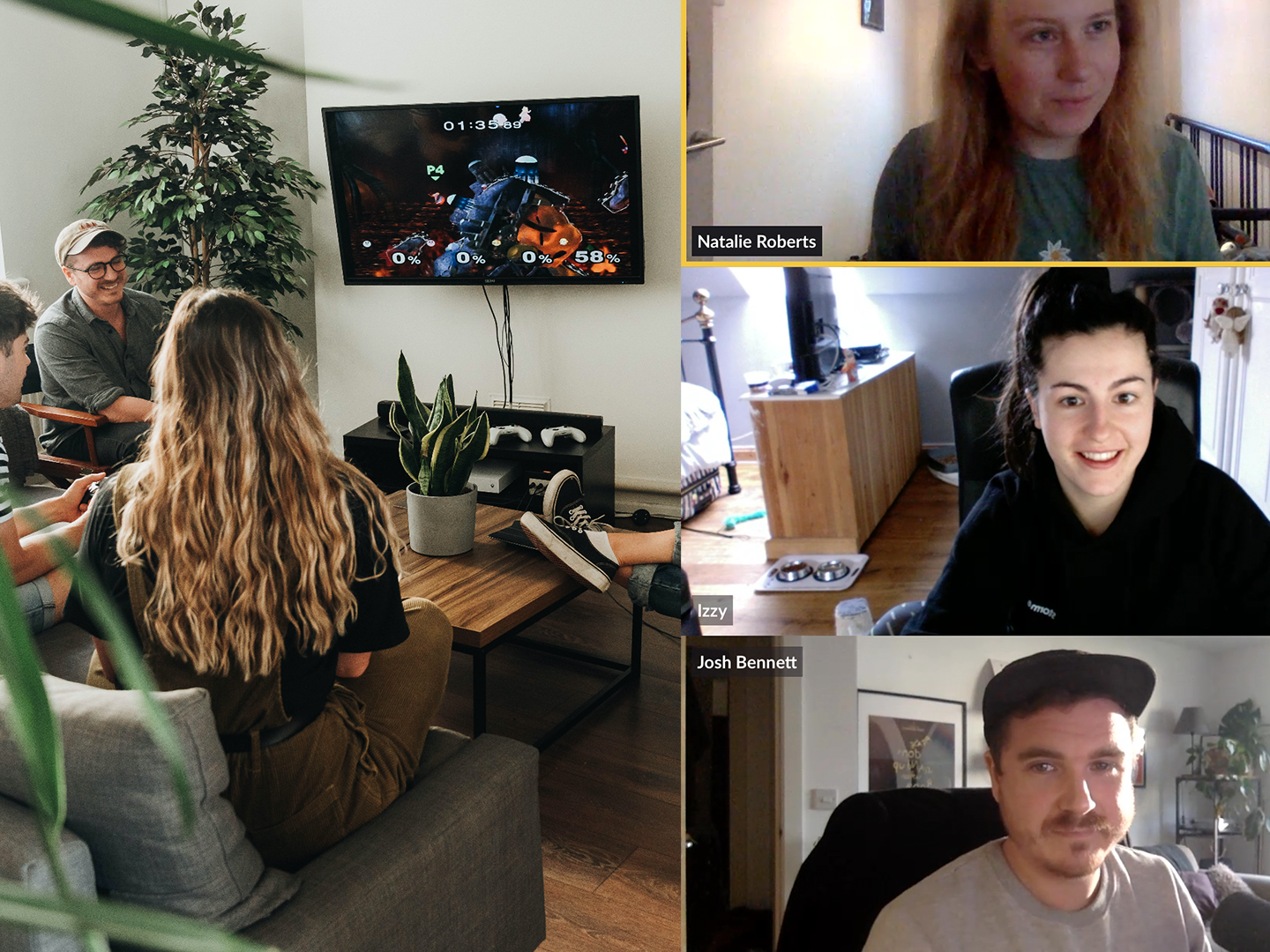 Since the introduction of lockdowns, and even more so recently seeing as you can't get away from posts about "hybrid working", everyone's been having the same conversation:
Clichés aside, it's super important to consider how we've all been working over the past year and what that's meant for our teams. Recently, we asked ourselves what we've done well since working from home, and what we're missing from office life.
For years now, we've been using stuff like Slack, Asana, Google Drive, CharlieHR and Frame.io, so we've not really needed to make any seismic changes in the way we work and communicate. A lot of the stuff that a bunch of businesses initially struggled with have already been in place for us for a long time, so the transition to working from home (WFH) was easy enough.
Here at Storm & Shelter, as a production house making film, video and animation, we have a whole heap of different roles with lots of different needs. Some really need access to our big-muscle editing machines and our production server, whereas others could do their whole job from their phones. That results in not everyone having the same needs, so it's tough to put together a policy that works for everyone.
We decided that whilst we were looking at the balance between returning to the office full-time (WFO) and embracing the idea of long-term WFH, we may as well address the wider nature of flexible and hybrid working and think about our working hours, too. Can we embrace a really flexible working environment that has a vibe of working wherever, whenever?
We put together a questionnaire to get the team's thoughts on what flexibility means to them, what they've found beneficial from working at home, and what they think is missing from working at the office. Everyone also piled in with their thoughts on what a hybrid workplace (the snazzy term for a combination of WFH + WFO) could look like.
We also asked everyone what sort of challenges—both cultural and operational—they think we'd be facing if we adopted a hybrid working environment. This was super helpful to get a good idea of what sort of worries people have around something like this and definitely allowed us to think a bit more tactically about what measures would need to be in place across the business to make sure people could be doing their best work.
We took a bit of time to go over the results, as well as trying to tackle some of the bigger issues that face a business like ours, like data management. If someone's WFO one day then wants to take the project home, how do we do that safely without the possibility of losing/duplicating data?
Our team loves the idea of flexibility and being able to work when and where they're most in their zone. Whilst WFH was great for focused time, productivity, and no need to commute, WFO is the catalyst for passive learning, social interaction, and a change of scenery for mental wellbeing.
Having set days WFH and WFO felt a little restrictive and less flexible, and a full, mandatory return to the office was pretty much out of the question. I'd anticipated this being the case as it seems that's the trend right now. There's a really great report here by the guys at Hibob that talks about the general sentiment of people about returning to work.
Having the option to be able to assess their own workload, make conscious decisions around their most beneficial working environment, and be able to balance their working days around the stuff that life throws at you turned out to be the dream. Hybrid working, it seems, could be the way forward here.
How we're supporting hybrid working
As a result of all of this, we're trialing a proper new take on our working environment. For the next three months, we're going to be operating a hybrid working environment, with flexible working hours and a lot more autonomy in terms of decision-making around that. We'll be asking for constant feedback, with a review session every two weeks to make sure we're addressing any issues that spring up along the way and iterating as we go.
Here's a quick overview of what we're working to:
Flexible working hours where you start and finish when you need to
A come and go office space
Working from home available whenever suits
Hell yeah, baby! That's some flexibility, right there.
And how are we going to manage that? Here's our plan:
Doubling down on Calendar management
We're already pretty hot on our scheduling and task management thanks to the use of Float and Asana, but we're also making it clear who is going to be in-office and who is WFH through the use of CharlieHR. We use CharlieHR for all leave requests, but they have the option to log WFH days, which is super useful! Team members can now just log when they're planning to be OOO so production staff know where they're going to be and plan ahead.
Introducing flexible working hours
Our official opening hours are 9:00am-5:00pm, Monday to Friday.
Our daily stand-up meetings (where we run through what we're all up to that day and if there are any obstacles in the way) now run 9:00-9:15am and sit-downs (our daily end of day update meetings) happen at 4:00-4:15pm.
Monday Production Meetings are carved out from 09:00-09:30am.
Stand-ups are mandatory for everyone, but you could, let's say, get on stand-up, lay out your day with the team, then go off to water the plants or smash that morning yoga session before getting on with your work.
Sit-downs are more of an optional affair, though. We set up a Slack workflow to ask everyone to fill in a quick form with the usual questions in there if they can't make the meeting. That way, the team can keep everyone updated with how they got on that day and if there's anything to flag for tomorrow.
Start and end times, however, can be flexible around these team meetings. We're advising that everyone lets their manager and producer know if they have preferred working hours so that this can be accommodated and scheduled (when possible). Everyone just needs to be mindful of any external meetings or calls that may require an alteration to working hours.
Essentially, don't just assume that you can be incommunicado after standup until 10am if that means you're missing a project kick-off meeting. Similarly, clocking off at 3pm is totally fine if you're not putting any deadlines in danger. The key is to communicate with your producer, keep your head in the schedule and make sure you're on top of what's required of you. At the end of the day, we can't entertain flexibility if we're not being individually responsible for what's on our plates day-to-day.
We use Everhour for time logging, which plays really nice with Asana—it means we can keep on top of where the budget is going for every production and lets us look back on how we did and where we can improve to be more efficient each time.
With this increased flexibility, we don't expect everyone to log a full day every single day, but we do expect at least 32hrs of project tasks per week to be logged so that we can accurately track if we're running projects profitably and help us set budgets intelligently.
Focusing on feedback and culture
One thing we're super protective of here (and know others are jealous of) is our culture and sense of team. We've spent a lot of time focused on our people; listening to and actioning feedback as well as embracing our weird but wonderful selves. We've been keeping our 1:1s on a tight schedule throughout the pandemic, and making sure that we've got regular touch points no matter where everyone is based. The last thing you want is a disassociated team!
One of the key assets we use to stay on top of this is Officevibe—a tool that lets us stay on top of 1:1 agendas, run pulse surveys with the team to gather regular feedback, and helps us identify any specific areas that we could really do with focusing on. We're going to be keeping on top of using Officevibe to maintain flexibility in our 1:1s, and gather that all-important feedback.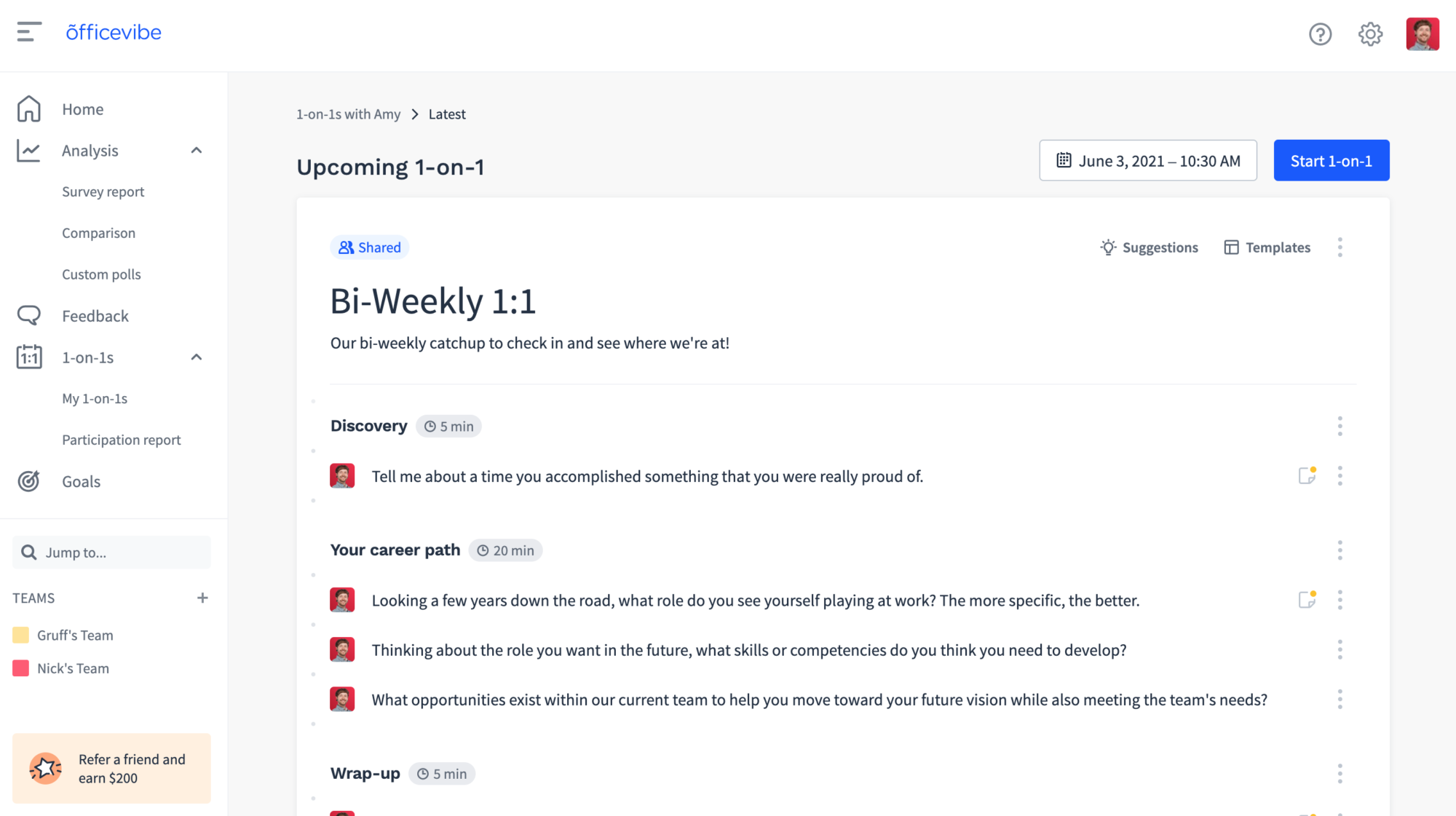 All the usual COVID-19 safety precautions apply that we've been exercising for ages. We've got hand sanitizers on every floor and expect everyone to wipe down their workstations before and after every session.
Our kitchen isn't one of those Silicon Valley infinite-flowing-cereal-style affairs, it's a "cozy" space, so we're limiting numbers in here and other social spaces around the office for everyone's safety.
Supporting WFH workspaces
We've got to take care of our team no matter where they work. By now, everyone has a solid, comfortable workspace at home, but for future hires, we'll be making sure they are supplied a chair and desk setup if they don't have one already.
We're also giving everyone a £50 allowance to make their home working space their own—plants, fancy mouse mats, in-trays—whatever makes them feel more comfortable and productive at work.
The road ahead for our hybrid working test
We know that this is going to throw up a bunch of challenges. It's not a simple turnkey solution to flexible working nor hybrid working, but we need to experiment with this. It'll take all of our individual contributions to building something that works for us all.
It needs constant feedback and review to find the ideal way for us to make flexibility work long-term. The key is keeping up communication, making it super clear what everyone is working on, when people are available and where the team can get a hold of each other.
We're excited to see how this all goes, and will share more about how it all pans out! We'll make sure to update this with what we learn over the next couple of months. The ultimate goal here is for everyone to be in a place they feel the most productive, where they can get projects smashed to the absolute best of their ability, and where we're working as a team firing on all cylinders.