The Canon C200: Why did we just buy one and abandon 7 years of Sony?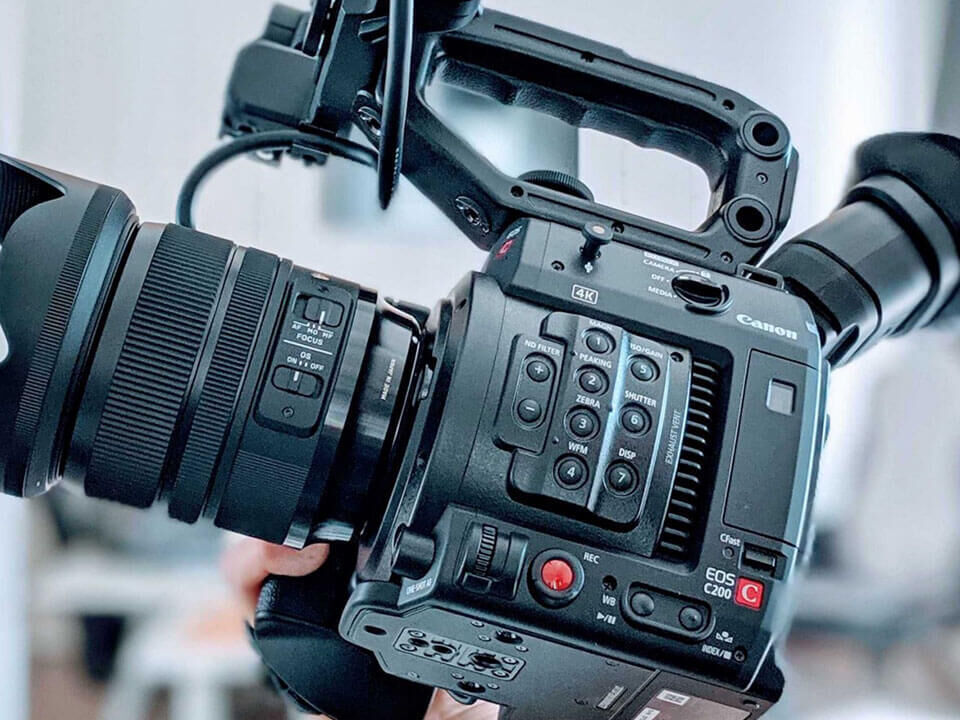 Anyone who's read my previous blogs about Sony cameras will know that, with the exception of the Venice (or maybe the F65 if I ever use one), I have a certain amount of mixed emotions towards using them.
On the one hand, the colour science of the Alpha series, as well as the F series, drives me up the bloody wall, but on the other, you cannot deny that Sony always seems to dominate the specs in a game of camera Top Trumps.
An ode to a much-loved family member
For the past seven years, Storm & Shelter has been shooting using a Sony FS700, which, to be fair, has been an absolute brick shithouse. A sturdy workhorse that gave everything to the cause and did what nothing else could do at the time. Still working to this day — albeit pretty long in the tooth — the FS700 battles on.
Alas, in 2019, at a time when reactivity and fast turnarounds take priority, it just isn't cutting the mustard anymore.
Even in its heyday, it was never an ergonomic camera; it was known for being something of a 'Frankenstein camera' and by today's standard it's pretty hideous. The Odyssey 7Q+ which we brought in to give it a new lease of life now feels more like a life support machine, barely salvaging any desirability or usability at all.
The poor thing's had the absolute shit beaten out of it. It's on its second sensor because we carelessly destroyed the first one with lasers, for God's sake.
It was never meant to last this long.
So that brings us to the present day where we've finally pulled the trigger and smashed the purchase button on its successor: The Canon C200.
I know what you're thinking. That doesn't seem like the obvious choice for a company which has been part of the Sony ecosystem for so long, does it? Why on earth would we want to jump ship, abandon Sony, forsaking years of user experience?
On paper, it wasn't an easy decision, yet in the end, I felt very confident about it. As I've just finished unboxing everything, and while I'm waiting for the battery to charge (it's been on 75% for 3 hours…wtf?), I thought it'd be useful if I went through my rationale behind the decision, in the hope that it might also help others think twice before falling for Sony's (or any other system's) spec sheet stratagem.
Picking the right tool for the job
Just to state the obvious, I know that the Canon C200 isn't the best digital cinema camera on the market today. But then Storm & Shelter weren't in the market for a Sony Venice or an Alexa LF. They were in the market for a small, cost-effective, versatile workhorse that'll guzzle up entry-to-mid-level budget projects and spit them out beautifully and efficiently. I was looking to replace the FS700 with a camera that would be more suitable for our current climate.
That left me with a handful of options:
Canon C200
Sony FS5 mkII
Sony FS7
Panasonic EVA-1
Blackmagic URSA Mini Pro
Note: I've not included any mirrorless cameras. Don't get me wrong, some of them have great specs, and — in certain circumstances — are incredibly useful. They just don't quite fit the bill on this occasion. Maybe I'll do a future blog explaining why.
Based on the criteria I mentioned earlier, here are the ranked reasons why I went for the C200. Buckle up.
Somewhat of a subjective choice, but then aren't all creative decisions subjective? Over the last 10 years, I've shot on, or tested, pretty much every brand of digital cameras. At the top of the camera price ladder, most of the spec margins become narrower, the lower you go down the price bracket, the more noticeable the difference becomes. Manufacturers bottleneck their own products to prevent them from competing with premium models and to create a tiered pricing list. This can often cause a raft of issues when it comes to colour reproduction. If you're looking to get a camera sub-£6k, you're going to encounter these issues.
The most common result of bottlenecking is bit-depth reduction and colour-processing power reduction. The sensor in the Sony A9 isn't all that dissimilar to the sensor in a Sony Venice, yet the Venice can capture 16bit X-OCN RAW files, and the A9 can only spit out 8bit XAVC files. Bless 'im. With its limited processor, the A9 has no choice but to squash that enormous amount of RAW information hitting the sensor into a tiny codec that can be written to an SD card.
Supposedly, there are several ways to do this both practically and mathematically, and while I'm no scientist, even I know that something's gotta give. Most cameras for under £6k still provide the colour features available to top-end models such as log gamma and wide colour gamuts. Problem is, it seems like most of the manufacturers have just slapped these options on the camera and not really come up with an optimised way to make them work.
I was at an open day recently where a technician explained to me that S-Log3 was never designed to work well with cameras that couldn't expose more than 14 stops of dynamic range, which is pretty much every camera except the Venice. Yet, every camera in this generation of F-series cameras (FS5, FS5mk2, FS7, FS7mk2) all have S-Log3 options. When you're only shooting in 8bit, you're only going to record one of a possible 256 colours per channel, compared to 16-bit's 65,536 possible colours per channel. So when you're shooting S-Log3 for example, even though the sensor and gamut can capture 65,536 variants of green, the processor has to work out a way of turning that into 256.
Of all the cameras that do this (Panasonic, Sony, Canon), Canon seems to have smashed it. The boffins at Canon have really thought about how they can best squeeze their sensor's colour information into an 8-bit codec while keeping it as beautiful as possible.
According to another tech I spoke to, this has something to do with Canon's compressor waiting until the last moment before squeezing the file size down, meaning it does all of the necessary tweaks to the colour reproduction before baking it into the 8-bit box. I have no idea how they do this, but trust me, it works. Canon has always been known for having great skin tones and having a pleasing image over an accurate one, and boy does it show on the C200.
What's more is that they have years of experience in creating custom colour profiles, meaning you don't have to shoot in a log profile and can just get great results in-camera.
Tip: try WideDR and Cinema EOS Original for a perfect halfway house. It really does take a steaming shit on Sony's FS5 mkII, in my opinion.
Over the years, I've come to realise that no-one really cares how accurate your images are as long as they look good, and so with that mantra in mind, the C200 was an obvious choice.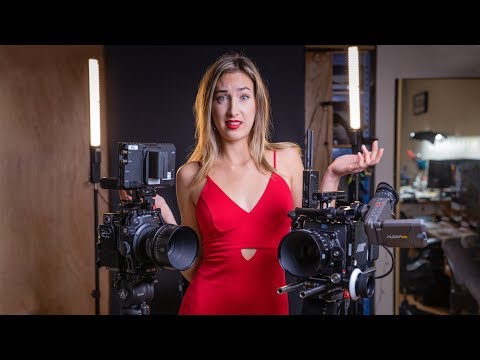 I just touched upon it (not shooting log, that is), and camera shake-up aside, it's the biggest change that this camera will bring about at S&S. Regardless of what I do on TV commercials or high-end pieces of content, the majority of our bread and butter content just doesn't need to be shot in a log gamma. It also doesn't need to be shot in 16-bit RAW, or even ProRes 444 for that matter. It just needs to look beautiful, be a breeze to edit and simple to colour for delivery.
As someone who colours a lot of what I shoot, I know the difference between grading RAW and 8-bit, but I also know that unless the stakes are really high, or you're creating a really punishing look, you just don't need all of that data. Most of the screens you're viewing stuff on, can—at most—display 10-bit colour.
In a company that needs to build and keep retainer clients to be profitable, maintaining a lubed pipeline is vital. Shooting in RAW and in log is great for bragging points, but it can poison your workflow if not considered carefully. As a company that provides an end-to-end service, from pre to post production under one roof, having a backlog of edits that need grading is toxic, as is filling up your data server with 3TB of that dingy box-room corporate interview you shot last week.
Unlike the FS700 (which became increasingly unruly and difficult in every form it took, be it on a shoulder rig or—God-forbid—a gimbal), the C200 has a form factor which makes it highly malleable.
In its most stripped back version, you need little more than the body itself to get things going. Casting a small, cube-esque figure means balancing it on a Movi or Ronin is a doddle, which is a big deal if you consider just how begrudgingly I used the Ronin with the FS700.
From the bare bones up, it has the right adaptability to suit your imagination. As an everyday shooter, I've equipped it with a Tilta shoulder-rig kit which includes a V-Mount plate and 15mm rods, as well as an Atomos Shinobi (which has a smörgasbord of monitoring tools, is nice and bright outdoors, and is considerably brighter than a Shogun — something you don't need if you shoot internally).
Many people bemoaned the internal codecs on this camera. 8-bit aside (10-bit HD would be nice, and if you need it you can always record it externally over SDI), I think the real ace up the sleeve of the C200 is its internal RAW.
Just think about that for a second — a camera that has 14 stops of dynamic range, a colour science extremely similar to ARRI's, that can shoot Cinema RAW Light internally on CFast 2.0 cards, and all for under £6k. Couple that with Wooden Camera's PL adapter kit (which I admit, is a bit terrifying at first) and you have a PL mount, RAW-shooting cinema camera.
Yes, CFast 2.0 cards are horrifically expensive, but personally, I'd only shoot RAW on a commercial, music promo or higher-budget brand film. The price of renting a few CF cards would probably equate to the cost of coffees drank during production.
I'd even go so far as saying that the C200 is a no-brainer B-Cam if you can't stretch to that second ARRI.
Aside from 8-bit colour, the 100fps slow-mo has been scrutinised somewhat unfairly, in my opinion. Claims of it being "a bit soft" compared to the standard frame rates are somewhat justifiable, but I really don't think the difference is hugely noticeable. At least you still get a full, uncropped image, unlike some of the C200's competitors. I also can't really remember an example of a client specifically requesting 100fps footage. If it was a direct requirement, I think the job would be specialist enough to hire a separate camera for it. I also think that as a creative, you tend to mould yourself depending on the tools you have, and, if anything, it might help wean us off an unnecessary dependence on slow motion…
Following on from my previous point on efficiency, it's hard to justify a camera that makes great images if it also does some weird, unpredictable stuff or spends more time in the repair shop than on shoots. Sorry, Blackmagic, but I just couldn't live with the weird noise patterns and bugs on the URSA Mini.
As for the others, the EVA-1 is relatively new and therefore isn't totally proven, and—like the FS5—feels a bit plasticky.
The C200 was launched in 2017, and so has had two years of feedback, bug reports and user tests. The screen developed for the C200 even made its way onto the C300 mkII, so you know it's good. The Cinema EOS range has been out for a long-ass time and with that time comes wisdom.
Even though buying a brand new camera can be problematic, buying an old donkey isn't ideal either. Truthfully, in my mind, I was fighting a battle between the FS5 mkII and the C200. After considering the above options, it seemed a bit of a daft idea to be buying into a camera with a seven-year-old sensor when the one with better colour, a more efficient pipeline and better usability also had a sensor which was five years newer.
Sure, it's not too late for me to eat my own words and discover that everything the C200 does well is offset by a hilariously disastrous feature or issue that I'm currently naïve to. From spending over a month of C200 Facebook forums, asking fellow owners and doing some deep-dive reading, I'm fairly certain that won't happen. Do your own reading. Make your own minds up.
As I've mentioned, this camera isn't for everyone, but I'm certain that it's what we need right now. Whenever you buy a new camera you have to accept that within twelve months there will be a replacement with updated features. The only way to negate this is to know that the best camera you've got is the one you have. You have to work with what you've got and get the most out of it, so long as it still serves its intended purpose. Don't fall into the spec sand.
In 2020 (or even in late 2019), I could see Canon releasing a C200mkII with internal 10-bit, RF mount and better high-speed frame rates. In my opinion, it's inevitable. In this lower price-tag market, however, I don't think FONG (fear of new gear) should stop you from purchasing the tool that's right for you at the time you buy it.
Breathe slowly, unclench your buttocks, and pull that purchase trigger.