Openreach
Making Wales Superfast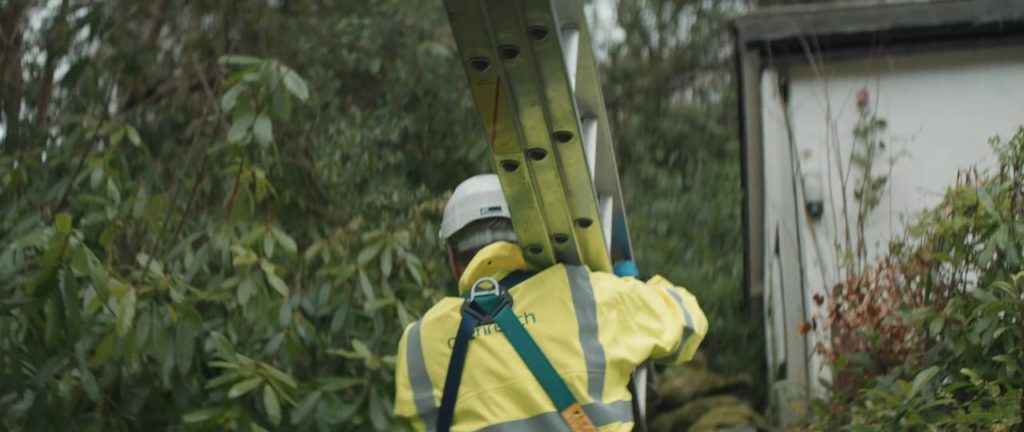 Making corporate case studies with high-end cinematography gear. Tasty.
By the time this brief landed in our email inbox, I think it was fair to say that we were good mates with the peeps at Openreach. After a flurry of successful campaigns with BT Wales, which led to a spree of equally successful films for Openreach, we were ready to take things to the next level. The best thing about mates is that they trust you when you decide to take risks. And boy, oh boy, do we love a good (but expertly calculated) risk.
Openreach approached us requesting a film that emotively demonstrated the lengths at which their engineers go to in order to bring superfast broadband to Wales.
The obvious thing to do, considering the technical sector under which Openreach operated, was to shoot a clean cut, sharp, saturated film that factually outlined the work being done. Instead, we were inspired to do the opposite and challenged ourselves to make a more authentic, organic piece of content.
We hired an Arri Alexa Mini and paired it with a set of anamorphic lenses—a match made in heaven. Together, the combination fostered an organic, filmic look, which resonated with the sentiments of the film. It really emphasised the harshness of the terrain and vastness of the areas the engineers were covering.
Keeping the rig hand-held with the help of an Easy-rig, we nimbly followed the engineers wherever they went, getting close to the action and giving a unique perspective.

We love a good road trip, and this job was no exception. Travelling the length of Wales over several days, we liased with multiple engineering units, as well as local businesses. On multiple occasions we were able to rock up, light and shoot an interview and then gather ample coverage before midday, before travelling to our next location. Under such pressing time constraints, it was crucial to gel as a team, which is something we do with ease here at S&S. We even let Josh pick the music in the van sometimes.

The delivered film was such a success that we have since been commissioned to shoot a whole series of films for Openreach throughout the UK, using the same set up. Score.