Quantum Coffee
Ground Your Way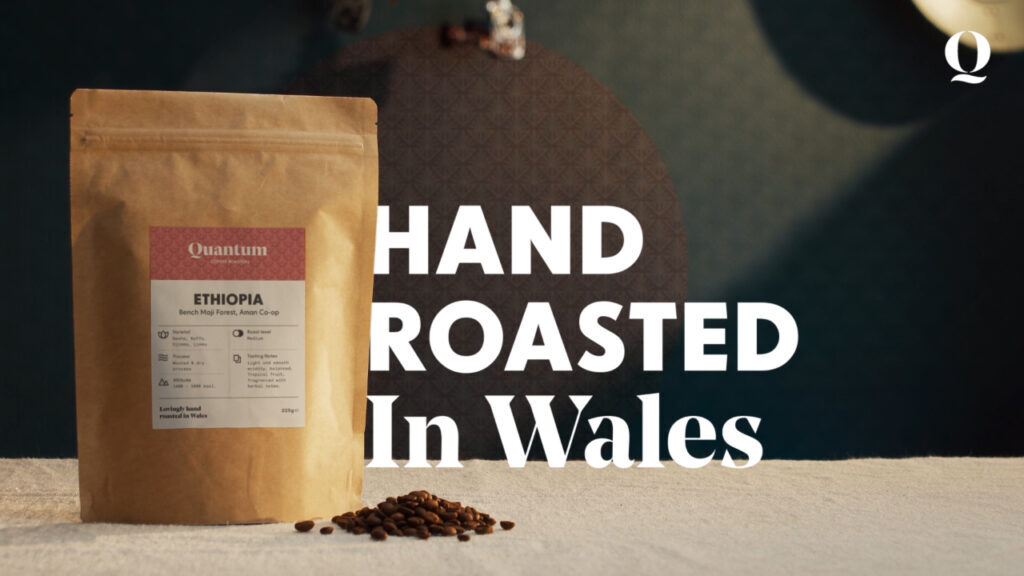 We put together a short online advert to help Quantum Coffee increase brand awareness and online sales.
In the creative industries, baristas are classed as essential workers—good coffee is vital to our existence. Lockdown hit cafes hard, so when we learned that our favourite local source of caffeine, Quantum Coffee Roasters, needed some help getting their web orders off the ground, we rushed to their assistance.
Chatting to Katia and Dimitri (over copious flat whites) we poured over several pieces of their competitors content, what they liked and didn't like, and what we could do differently. We were really keen to sell the personality of the cafe and steer away from a pre-packaged piece of content constructed from stills, but wanted to make something clear, simple and eye-catching.
From visiting the cafe frequently (probably too frequently) we were inspired by the jazz playlist and afternoon sunlight that makes a regular appearance, and so decided to set our commercial in the late-afternoon, and let that inspire the lighting and colour tonality. Many of the potential online customers were those who have previously visited the cafe, and so tying in these visual cues we felt would help tap into the emotions and physical sensations associated with it.
As the advert was designed to raise brand awareness and show-off the product on offer, we wanted it to be the main focus of the film, although we still needed to get some key messages across to our audience. To overcome this, we storyboarded the ad with the help of our motion graphics squad, which allowed us to shoot in a way that gave the product priority, while still leaving frame space to seat the text beside it. We were also able to shoot two versions of each shot, to cater for social platform aspect ratios.
Katia and Dimitri were thrilled with the final film, and we're currently working together to create some additional content from the deliverables. Noice ☕☕☕