So, are they in our corner?
It's pretty clear by now that we're big fans of projects that are proudly Welsh.
So, when our pals over at Golley Slater asked if we'd be interested in helping out with Business Wales' latest campaign "We're in your corner" there was only one response… 'Happy days!'
The Welsh Government have brought in a whole bunch of initiatives to help support employers get people into work, and needed a film that wrapped it all together nicely. Golley Slater had sold in their concept with a solid guide storyboard but came to us for some directorial treatments to flesh things out.
Once they sent over their thoughts, we knew exactly who would be a perfect fit for the job and enlisted the help of one of our fave dynamic directorial duos GoshDamn to bring the ad to life.
Smooth movements, charming characters & bold colours.
Workplaces are not what they used to be and everyone has different ideas of what they look like, so we wanted to grab the attention of the audience and show common workplaces as vibrant and fun environments through bold colours and eye-catching props.
The adverts were only going to be 30 seconds long, but we wanted to keep things interesting and energetic by using a 'wide and close' method of filming. Using wider lenses but being close to the subjects to draw the viewer's eye in on the action, framing them like a portrait.

The film would showcase a diverse group of workers in three key industries: renewables, IT and manufacturing. We'd only have a two-day shoot to play with, so finding a warehouse, solar farm & data centre which would be close enough to each other to make things feasible would be tricky. But thanks to some creative scouting we managed to find two of them in the same village (I know, right?!) and could be shot on the same day with not too much hassle.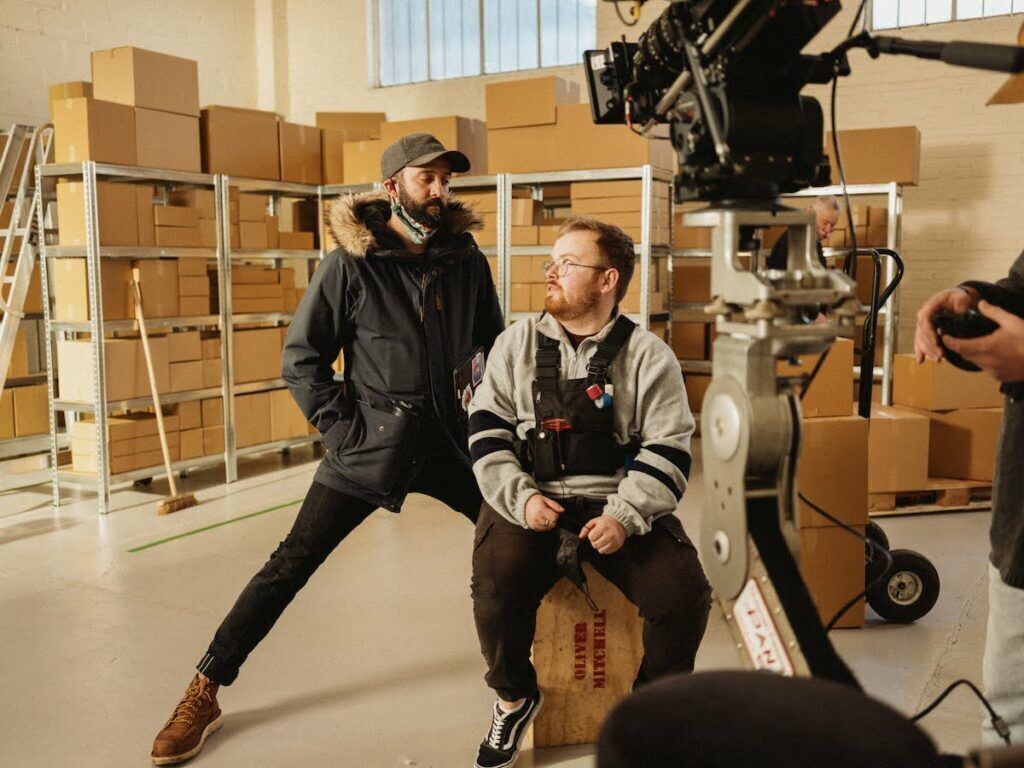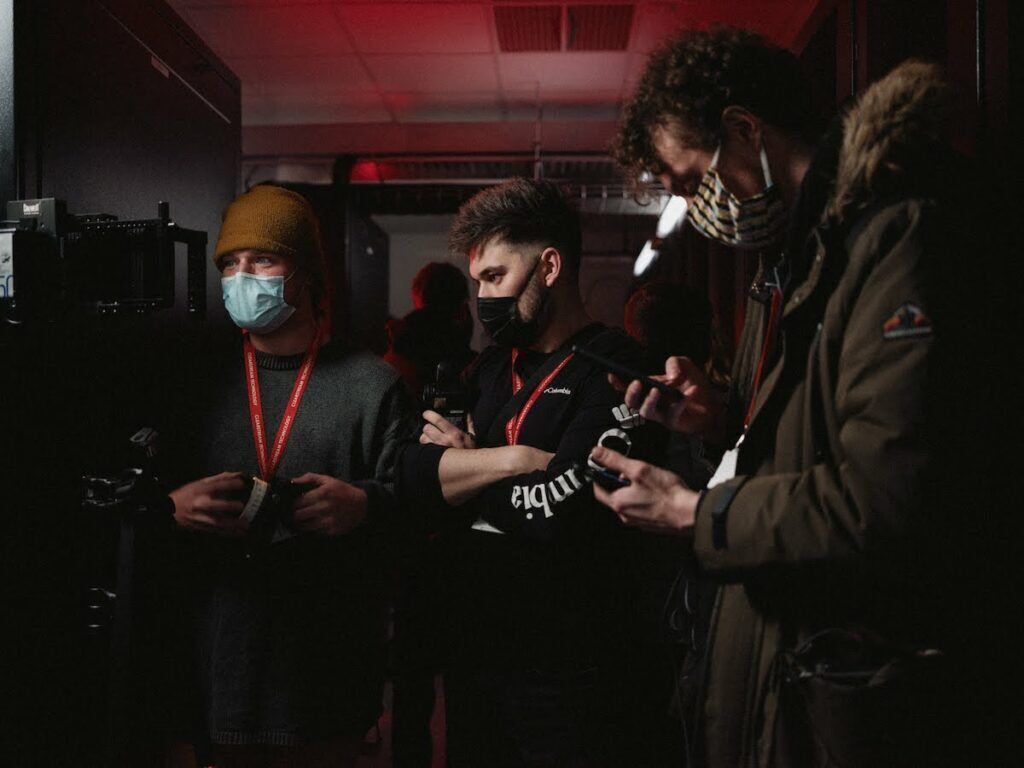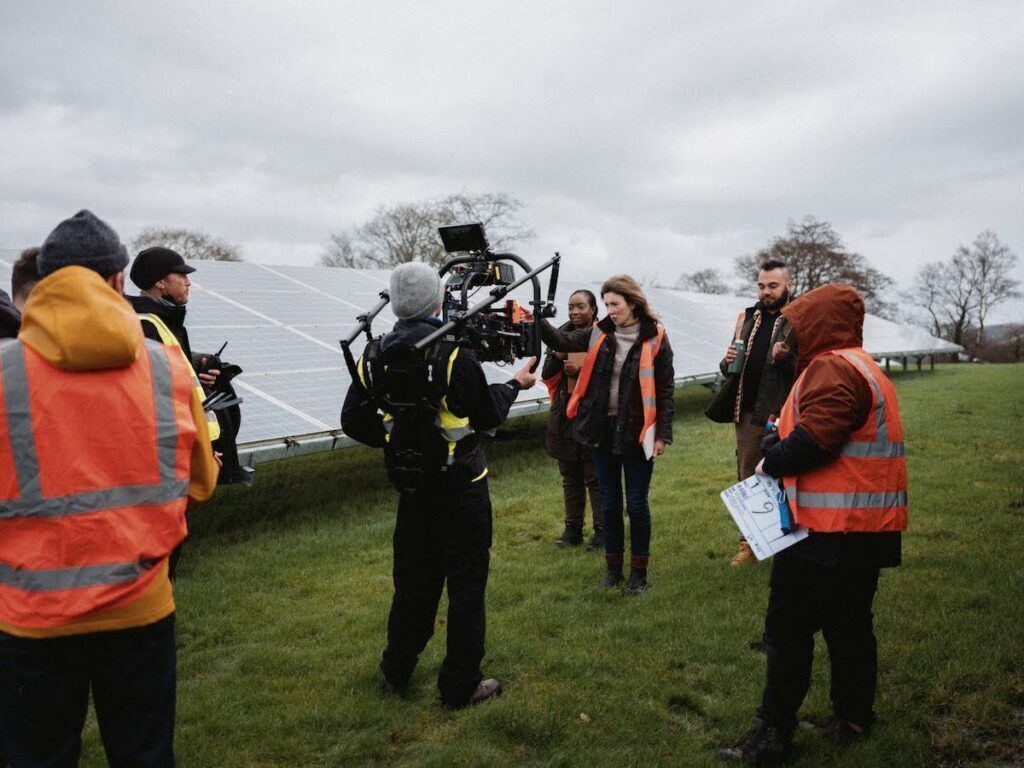 When it came to the shoot itself, as well as that whole pandemic thing, we had to deal with one pretty major obstacle — Storm Eunice. Luckily on our first day, the Met Office was wrong and it was (mostly) clear skies so we even got to take a few cheeky drone shots which we didn't think were gonna be possible.
But then, that evening it all changed.
Good ol' Eunice had picked up and got very serious, so we had to be quick on our feet as some of our cast and crew were no longer able to attend day two of filming. We got it all sorted, and thankfully we were inside so apart from having to set up 100s of cardboard boxes in the morning, it all went pretty smoothly.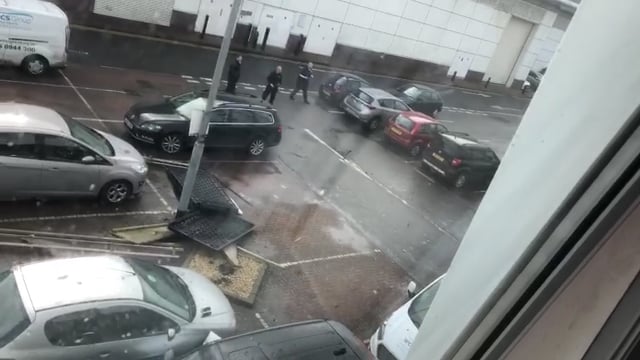 Back in the studio, it was time to make as Nick would say 'a butt-load of deliverables'. If you need a translation, the rough equivalent is 68 versions across Welsh, English and any social cuts you can think of. Job Done.
RIP that Travelodge roof though.